A stylish anti-SUV in look and driving feel, the 2022 Toyota Venza hybrid crossover hits its highs in silent, smooth efficiency. The Venza is a compact hybrid crossover, with seats for five and standard all-wheel drive. It's a rival for vehicles like Toyota's own RAV4, the Subaru Forester, and the Honda CR-V. The Toyota Venza is unchanged for 2022.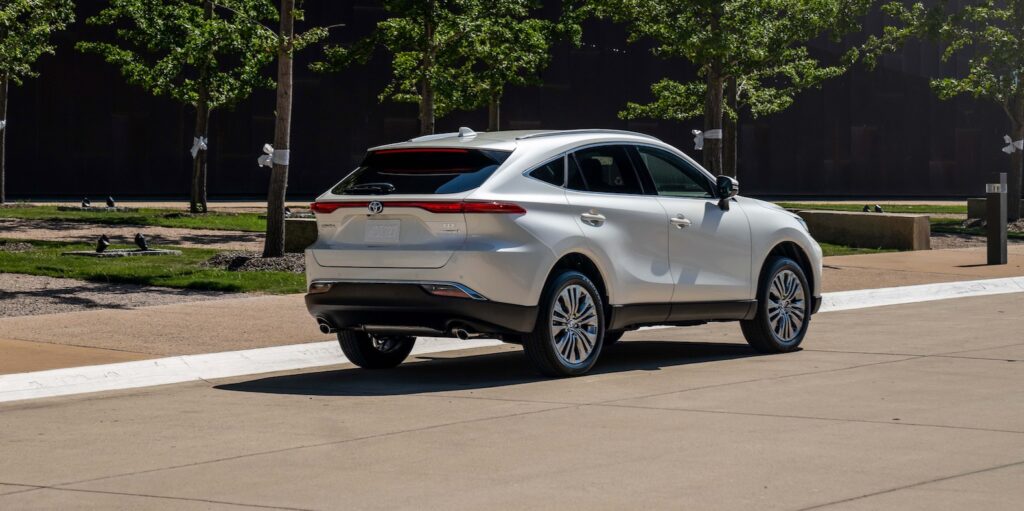 Although it shares some running gear with the angular RAV4, it has a suave, sculpted shape and a richer interior. The Venza channels an inner Lexus for its urbane shape. The hard shadows cast by the rigid lines of the 4Runner and RAV4 have been erased, and replaced with gentle edges and flowing curves. Minus the Lexus hourglass grille, the shape's soft wedge and coupe-like rear come off rakish but not racy. Toyota paints thin lines of chrome to dress it up, and fits bright polished wheels to bling it up slightly, but the Venza mutes almost everything else: it's a lozenge that's meant to soothe drivers.
The Venza pulls out all the comfort stops. Toyota reaches for the fuel-economy stars in the 2022 Venza, but acceleration and handling don't fall off the to-do list entirely. Toyota fits its hybrid 2.5-liter inline-4 into the Venza for a net of 219 hp; one of the system's three motors powers the rear wheels for a technically interesting version of all-wheel drive. The result: 0-60 mph acceleration of about seven seconds, very smooth integration of gasoline and electric power, and a slushy feel to acceleration since the Venza's gearless transmission moves around its powerband to maximize economy wherever it can.
There's some imprecision in its braking, too: it's not grabby, but a tap on the brakes sends the Venza into regenerative braking first, then into its conventional brakes. The transition's orderly, but noticeable. All Venzas have all-wheel drive. Of note, the Venza's navigation system programs itself to take the most efficient routes, with optimal legs chosen for braking, acceleration, and cruising. It favors measured acceleration and low grades.
The Venza's ride benefits from Lexus-like damping. With a similar setup to the RAV4, at least in hardware, the Venza gets softer springs and shocks, which let it lean more into corners and absorb more irregular pavement. The handling edge has been filed off. There's little excitement in the way it drives, but it is uniformly capable and pleasant. The EPA's happy with the Venza's fuel economy. It's a hybrid, so the Venza's excellent EPA ratings come as no surprise. The agency pegs it at 40 mpg city, 37 highway, 39 combined.
The Venza protects passengers well. Fresh from a round of crash-testing, the Venza's proven its personal safety mettle. In both crash-test regimens, it earns top scores. The NHTSA gives it four stars overall in front-impact protection, but the sum of all its scores yields a five-star overall rating. The IIHS dubs it a Top Safety Pick, with "Good" scores for all subtests.
Every Venza comes with automatic emergency braking, blind-spot monitors, active lane control, automatic high beams, and adaptive cruise control. Parking sensors, a head-up display, and a surround-view camera system are offered—and useful to boost rearward vision that's compromised by the roofline.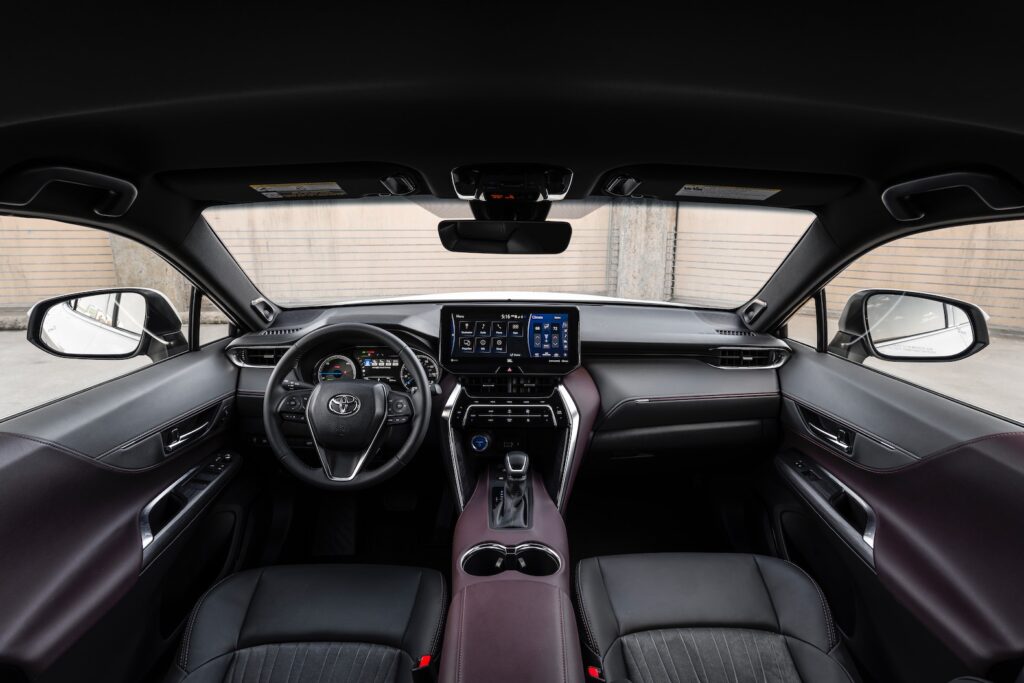 The Venza's compact interior makes some Lexus moves. The drama's saved for the angular, tech-laden dash. Fitted with a standard 8.0-inch touchscreen or an available 12.3-inch touchscreen, the dash gets wrapped in soft synthetic leather and stitched in contrasting colors for a tailored appearance. It's a cut above the treatment in other Toyota crossovers, even the pricier Highlander.
Toyota wraps the Venza body around an interior fitted with comfortable front seats and lots of cargo room. A pair of power-adjustable front seats come to every Venza, and covers those in base models in cloth. Synthetic leather's an upgrade, as are heating and cooling. The seats don't have tilting bottom cushions, which can limit comfort for some drivers, but we found them to be like any good partner, supportive and kind over the long haul.
The second-row bench can't fit three medium passengers across for long trips, but leg room swells to 37.8 inches; head room's slimmer than 6-footers might require. The same swanky roofline that cuts into head room trims some cargo space: the Venza has 28.8 cubic feet of room behind the rear seats, nearly ten fewer than a RAV4.
The Venza's interior wears a higher grade of trim than the RAV4, though. Door and dash panels and the center console are clad in synthetic leather, and the steering wheel and shifter don real leather, all capped with contrasting stitching and seat piping. It's pretty, and pretty quiet, too.
A slim lineup of three Venza models covers all the bases. With a good infotainment system and a complete list of standard features, the Venza presents a good value. Its warranty is nothing special, but the options list is short. You'll be fine with the $33,885 Venza LE, which comes with power features, 6-speaker audio, cloth upholstery, LED headlights, a power driver seat, 18-inch wheels, a hands-free tailgate, an 8.0-inch touchscreen, and Apple CarPlay and Android Auto.
For $37,415, the Venza XLE gains synthetic leather upholstery and heated front seats, and unlocks more options like a head-up display and a twin-pane sunroof. It's $41,215 for the Venza Limited, which gets synthetic leather upholstery, navigation, a surround-view camera system, a 12.3-inch touchscreen, and 9-speaker JBL audio. An average warranty of 3 years/36,000 miles comes with the Venza.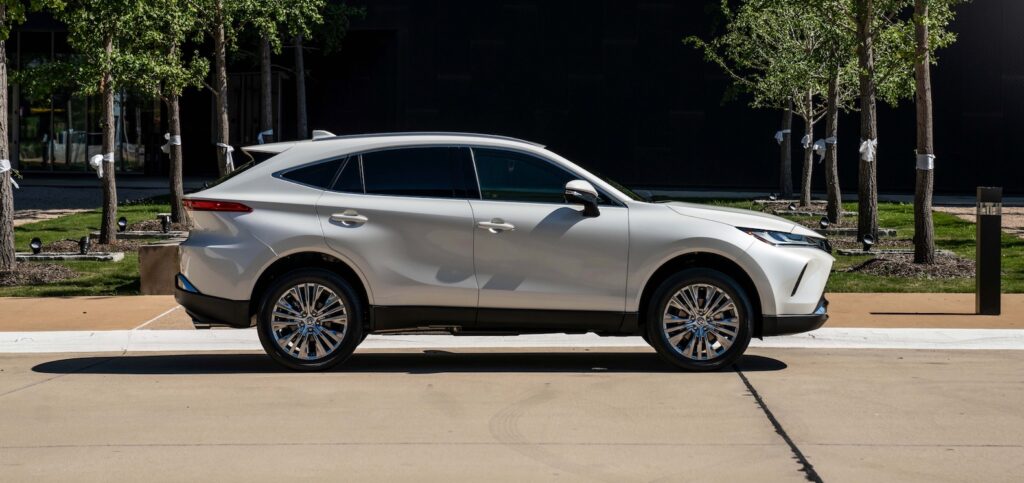 The 2022 Toyota Venza is definitely not your typical boxy SUV. With svelte styling, an efficient hybrid powertrain with standard all-wheel-drive, and cutting edge technology; the Venza handles the environment and passengers with a gentle touch. The Venza makes a unique case against its own stablemate the RAV4. While the Venza impresses with its upscale looks and refined driving demeanor, the RAV4 enjoys a butcher rough and tumble style with slightly more space. Regardless which you choose you can't go wrong and Toyota has you covered.