I'm lucky to be a hot rodder, and most days I feel even luckier to be able to write about them. At the end of last year, my friend Bill Ganahl called me up on a Wednesday afternoon. "We're restoring Bob Panella's Anglia for the Grand National Roadster Show," he said. "Would you like to make the show signs?" I didn't hesitate for a second. "Hell yeah," I replied. "I'm so in."
If you're reading this, you know how much I love writing about this stuff. But to be able to take on a project like this from start to finish is extra fun. Journalism? Research? Design? Vintage photos? It doesn't get much better than that.
Soon thereafter, I made my way across the Bay to Bill's shop, South City Rod and Custom. After catching up for a while, he slid a massive stack of photos across the table. This, I realized, is when the project kicked into high gear.
That night, I laid out all the material on my coffee table. Original Polaroids, crisp action shots, scrapbook pages, Hot Rod Magazine articles and more. I studied each and every one. I carefully shifted them around, working chronologically.
Bob started with a stocker in 1966, and he had Ronnie Scrima and Pat Foster build it into a B/Gas terror. It made its debut later that year with an injected smallblock and a four-speed. "I never was much of an automatic guy!" Bob told me. "It was neat but, boy I'll tell you what, it's like riding a rollercoaster out there. You don't have enough tire on it and the track was all inferior and slippery, you had to be careful."
From there, it transformed into "Il Padrone." For those of you who, like me, didn't study Italian, that translates to "The Boss." Bob worked with the best of the best to take the car to the next level. Short wheelbase. High stance. Polished Halibrands. Candy paint by Bertolucci. The car was a showstopper and a record setter.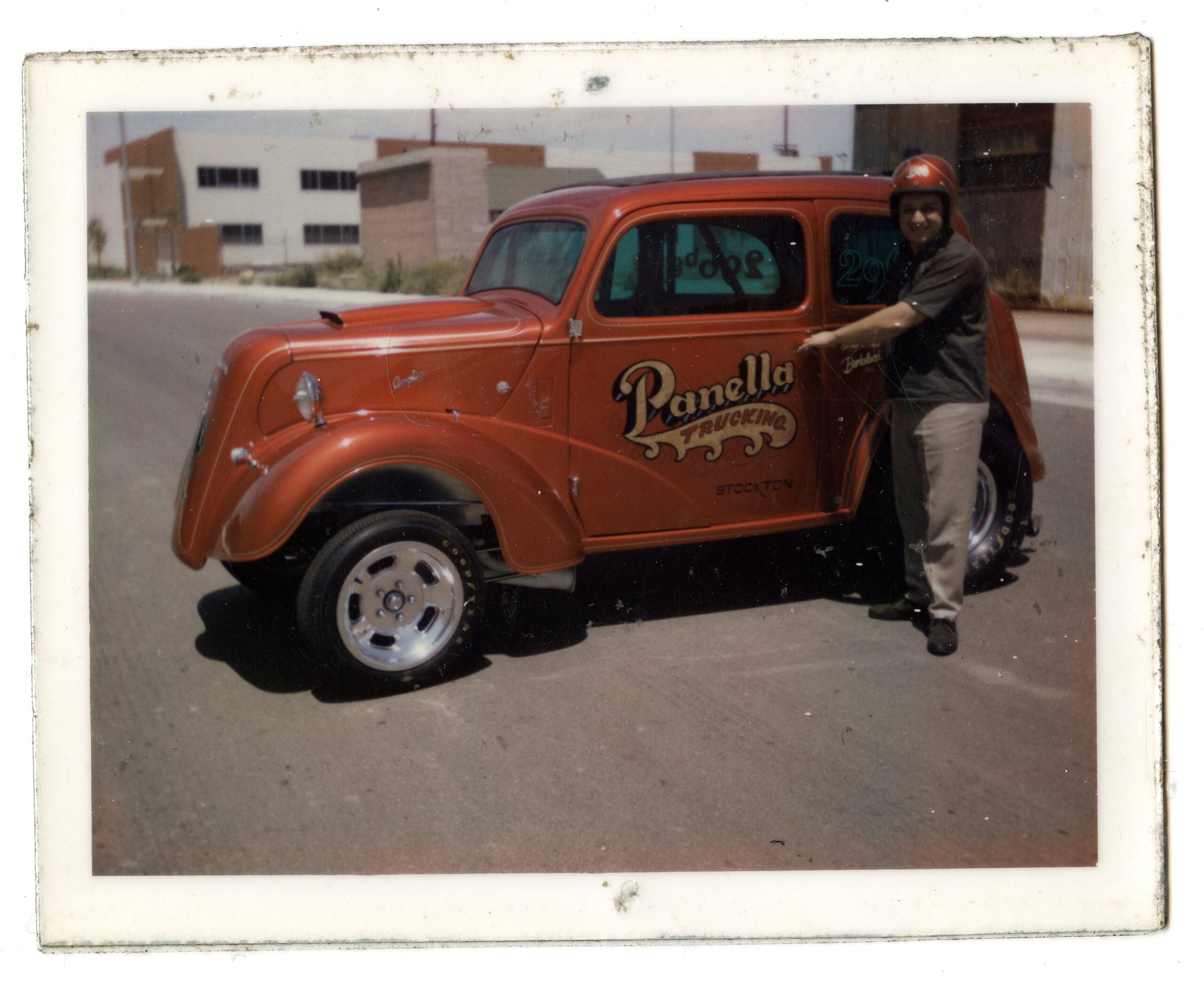 As time went by, the nose went down and Bob swapped in a Fred Miner-built smallblock Chevy—with a blower. The car won wherever it went, taking home top honors at Bakersfield, the Winternationals, the HRM meet at Riverside and even multiple NHRA Division 7 Points Championships.
When January rolled around, the signs were ready. They traveled down to Pomona with the rest of the SCRC display. Walking through Building Four, I was so excited to see the finished Anglia that I momentarily forgot that the signs were even there. Bill, Donny, and the South City team knocked it out of the park—per usual.
Amidst the hustle and bustle of the show, I'd catch a glimpse of the Candy Red Anglia. It brought a smile to my face to see folks admiring the car, and then reading the show signs to pick up a little bit of hot rod history.
—Joey Ukrop
 Photos from the Bob Panella Collection. Special thanks to Donny Welch for sharing the action photos from his dad and uncle.