[ad_1]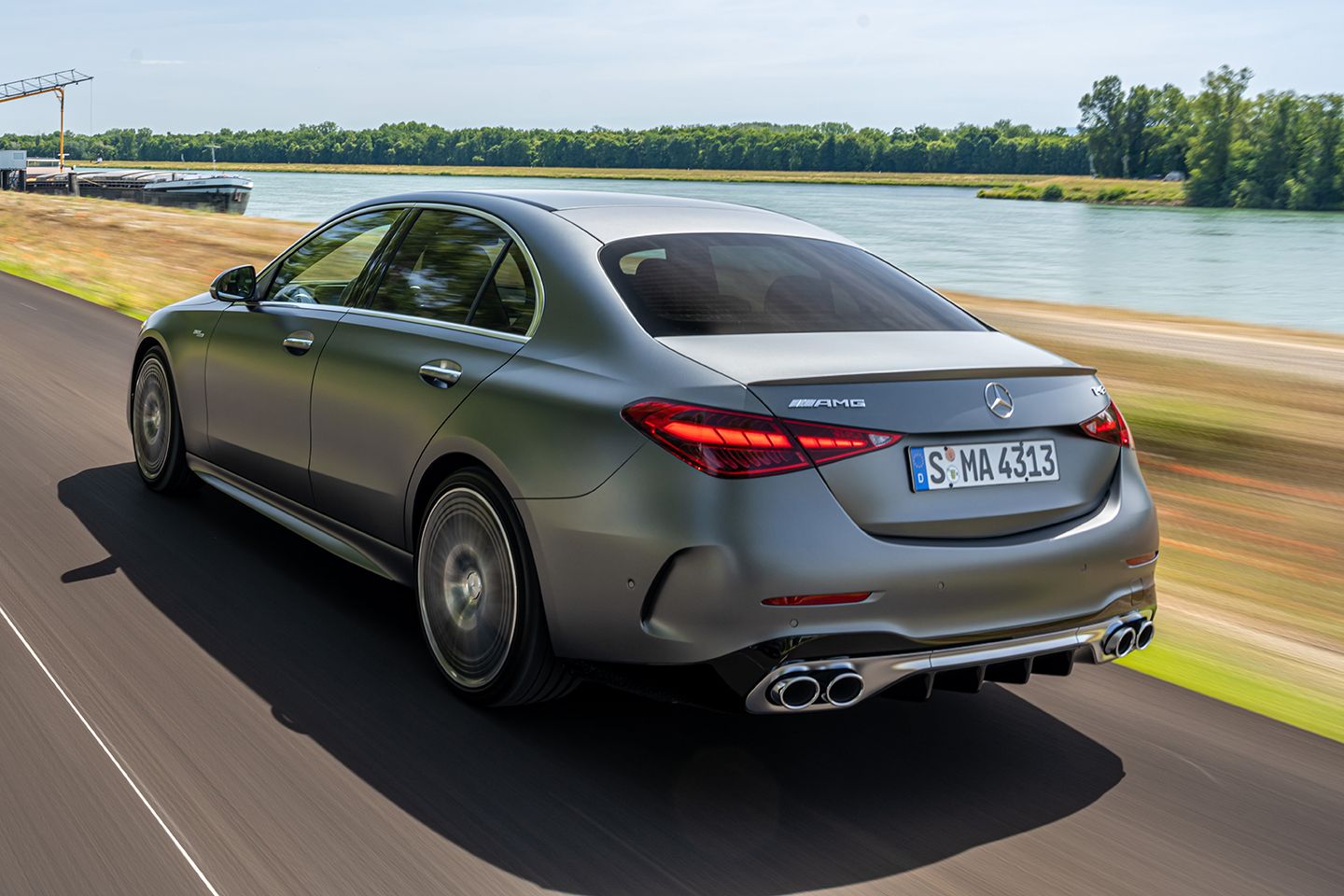 In a strange juxtaposition that has nothing to do with direct rivalry I emerge from my first drive in the new Mercedes-AMG C43 thinking about the Porsche 718 Cayman and Boxster. Not in terms of practicality or performance – rather the way both serve as examples of what happens when you downsize without entirely wanting to.
The previous generation C43 used a twin-turbocharged V6 engine which, although definitely not as exciting as the 4.0-litre V8 in the C63, had a charisma that went well beyond its ability to deliver performance numbers. The new C43 has a 2.0-litre four-cylinder engine that is boosted by a very clever electric turbocharger and, as you'd expect from German engineers, manages to beat the old motor on the most important metrics: it has more power, delivers quicker performance and – beyond the challenge of comparing what are now different standard emissions tests – is cleaner and greener. Against that it is down, slightly, on torque – and considerably more on character. Which is pretty much exactly how I felt when I finished my first drive in the newly four-cylinder 718 Cayman back in 2016. 
Not that Mercedes had much choice here. Cars are expected to get more efficient, and that goes for fast as well as slow ones. AMG has already committed itself to the creation of a hugely complex plug-in hybrid version of the C63 which will use a brawnier version of the same 2.0-litre engine that powers the C43 in conjunction with a much more potent electrical system. Given that it would look strange if the lesser car was allowed to carry on with a bigger engine, especially given the chance to combine it with a very smart new turbocharger.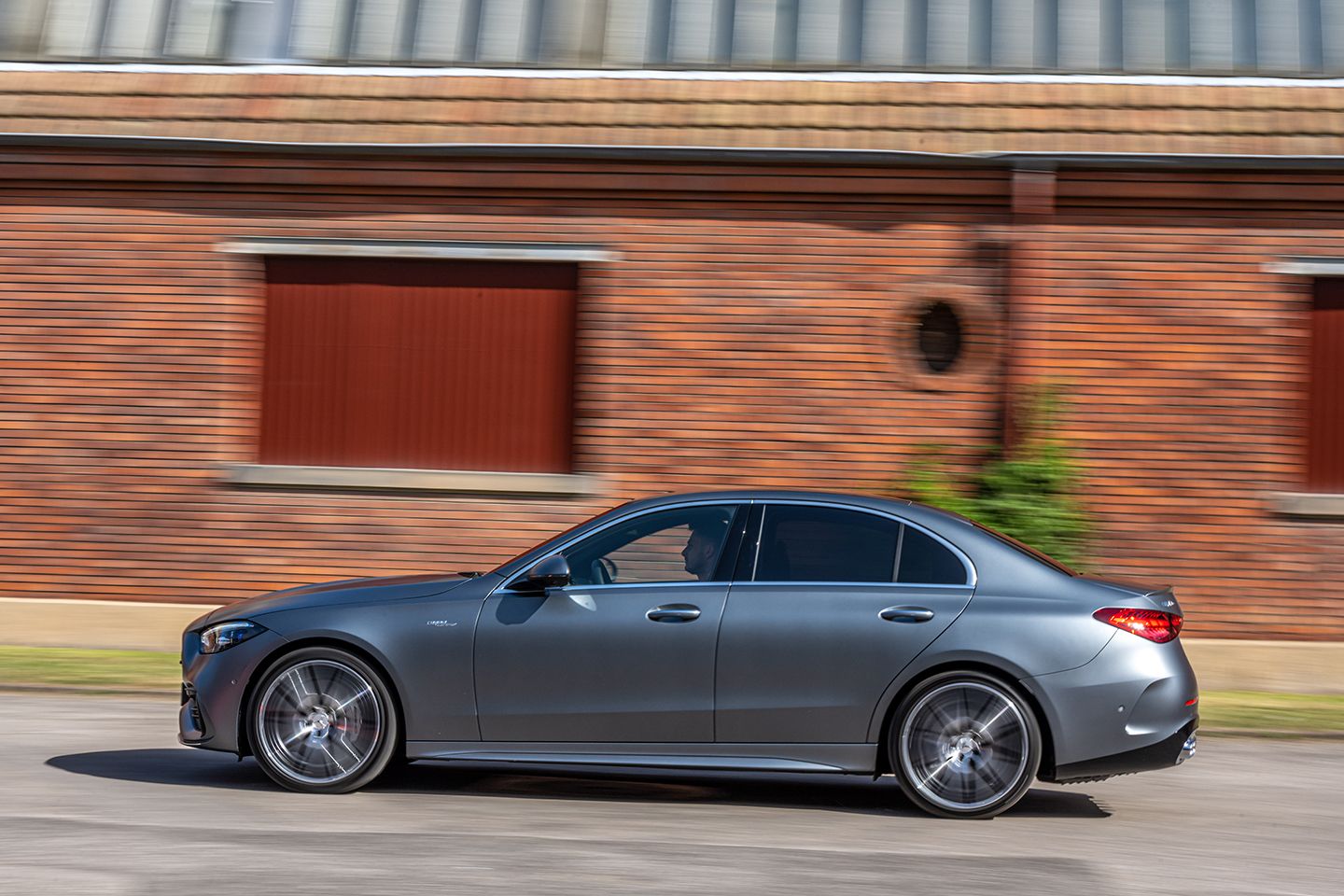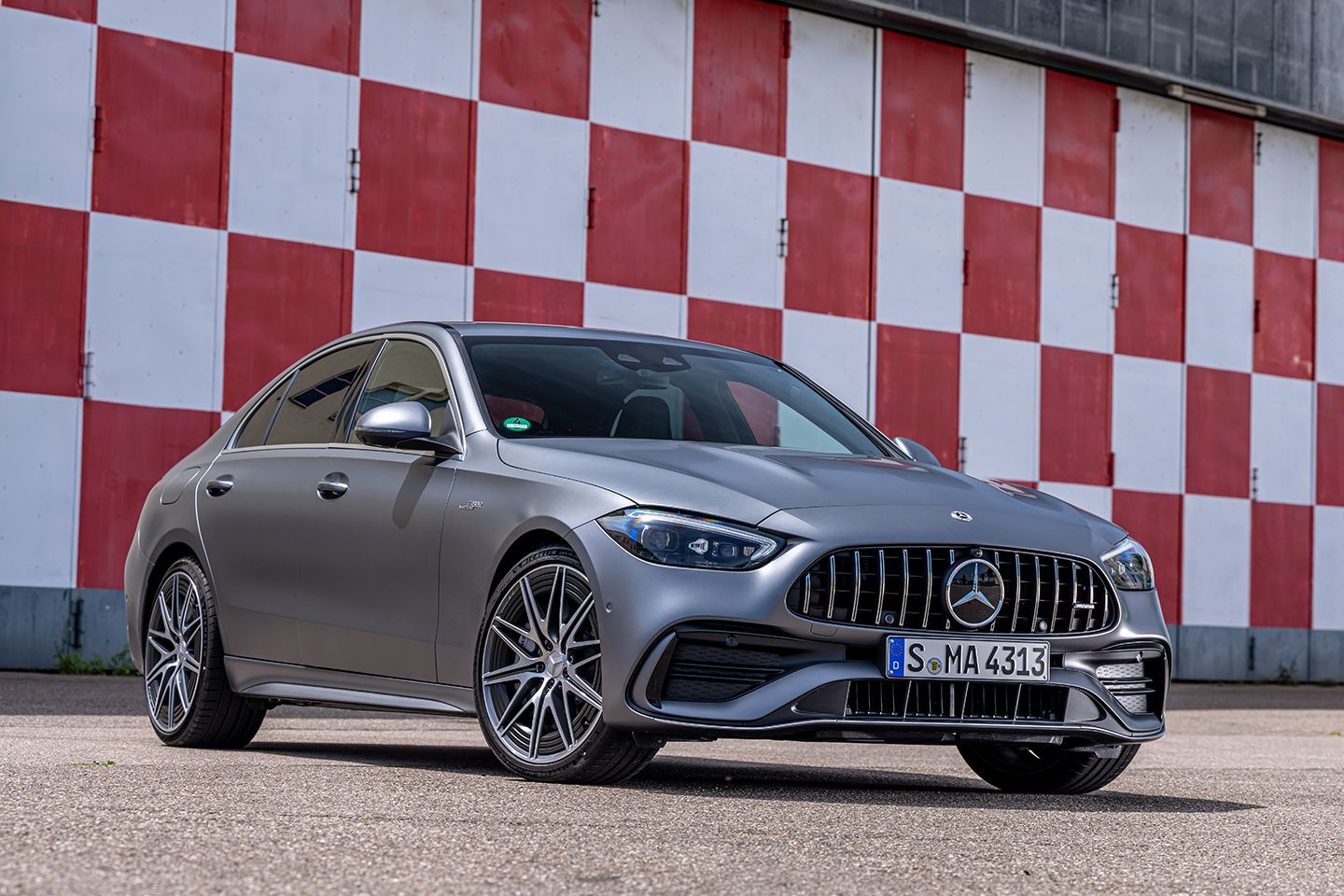 The C43's base engine is the same M139 four-pot that powers the A45 and GLA45, albeit now turned north-south in the engine bay. The Garrett turbocharger features a compact 48-Volt motor that works directly on the shaft connecting turbine and blower. This can rotate at speeds of up to 175,000rpm, the same peak as the turbo itself, and can add up to 6kW of electrical assistance. It can also extract up to 4KW from gas flow as regen, although it only ever does this for brief periods. More energy is harvested by a 48-Volt belt-operated starter-generator, with this also able to add assistance at  lower speeds. Total peak output is 406hp, slightly less than the 415hp the A45S manages with its non-electric twin-scroll turbocharger, but more than the 385hp the last C43 made with its twin-turbo 3.0-litre V6.
Peak torque is the same as in the A45S, with the maximum 369lb ft now arriving at a peaky 5000rpm. (The old C43's 384lb ft maximum came at 2,500rpm.) Drive is delivered to the road through a nine-speed auto featuring AMG's wet clutch instead of a torque converter, plus an all-wheel drive system with a fixed 31:69 front-to-rear torque distribution. Active dampers are standard, as is a rear-axle steering system.
Visually the C43 looks closer to being an AMG Line than a full-blooded member of the clan, certainly from the front where horizontal radiator grille strakes are about the limit of the party. Further back there are sill extensions, a dinky little tailgate spoiler and – beneath the bumper – four exhaust tailpipes. Yes, we've finally reached the stage of having one for each cylinder. 19-inch alloys will be standard in the UK, with the Premium Plus version bringing the 20s that my European-spec test car sat on.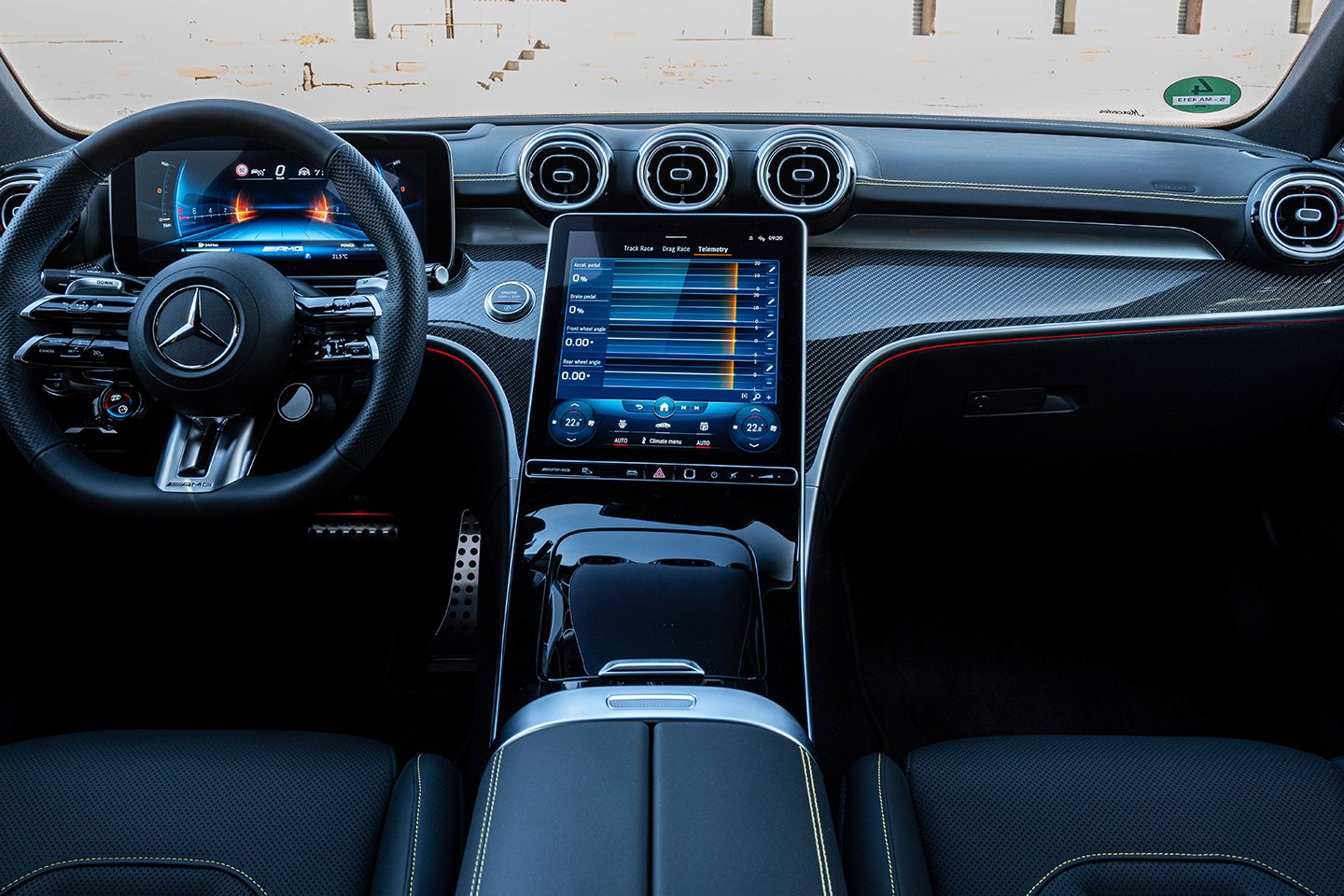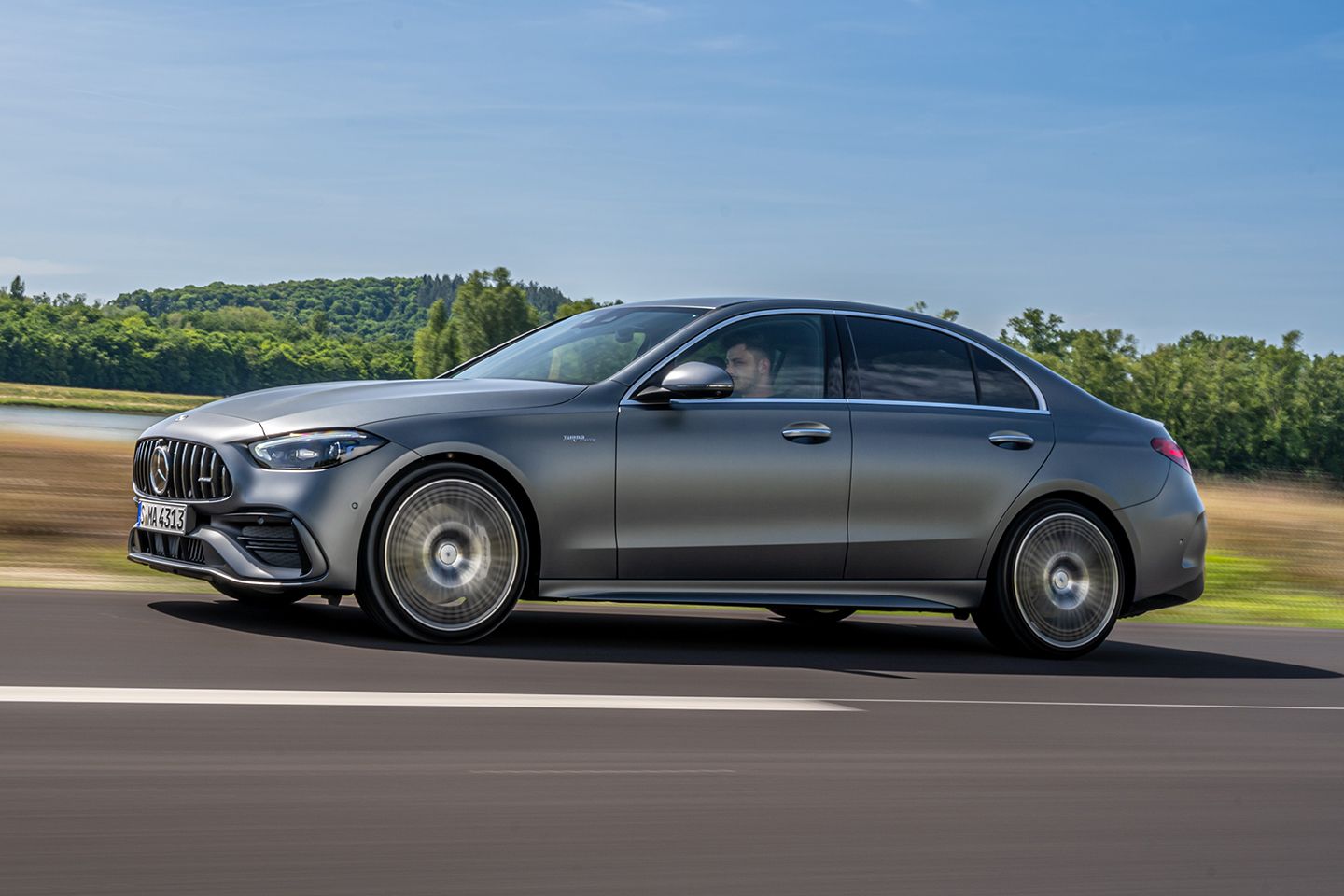 The interior feels similarly close to that of a high-spec non-AMG C-Class, although with more carbon trim and a new AMG shortcut button at the base of the 12.0-inch portrait orientated central touchscreen, this bringing up the dynamic options immediately. The steering wheel probably carries more controls than any other, requiring the double stack spokes to find enough space for all of them – but I'm sure owners will quickly get used to what goes where. The two circular controls at the base allow direct selection of the various AMG drive modes on the right, with the left allowing individual settings to be adjusted for engine, chassis, exhaust and gearbox. Given the multitude of choice I spent most of my time alternating between Comfort and Sport Plus to experience the extremes.
The clever new turbo is effectively invisible, but invisibly effective. There is the very slight hint of enhanced induction noise low-down, boost pressures building before the engine gets into its stride. But beyond that the only evidence of its existence is what is genuinely a near-total lack of lag, both at lower rpm but also when lifting and then reapplying the throttle rapidly when the engine is working harder. Engine response is linear and although, subjectively, the C43 doesn't feel 400hp fast on first acquaintance, that's likely due to the abundance of traction and lack of drama. The new motor isn't a high-revving screamer, my test car actually meeting its limiter slightly below the marked 7,000rpm redline when forced to go there through manual gear selection.
It is also lacking much of the savage soundtrack that used to come as standard in AMG derivatives, especially the 45 four-pot versions. The new engine certainly doesn't sound bad when worked hard – as the owner of a 190E 2.5-16 I'm well aware at least one of this C-Class's ancestors was a performance four. But it never builds to a satisfying crescendo, and a fair percentage of the pops and rumbles on a lifted throttle are being digitally enhanced through the speakers. At cruising speeds the C43's engine is near silent. It's the a
rea where it feels most obviously different to its charismatic predecessors.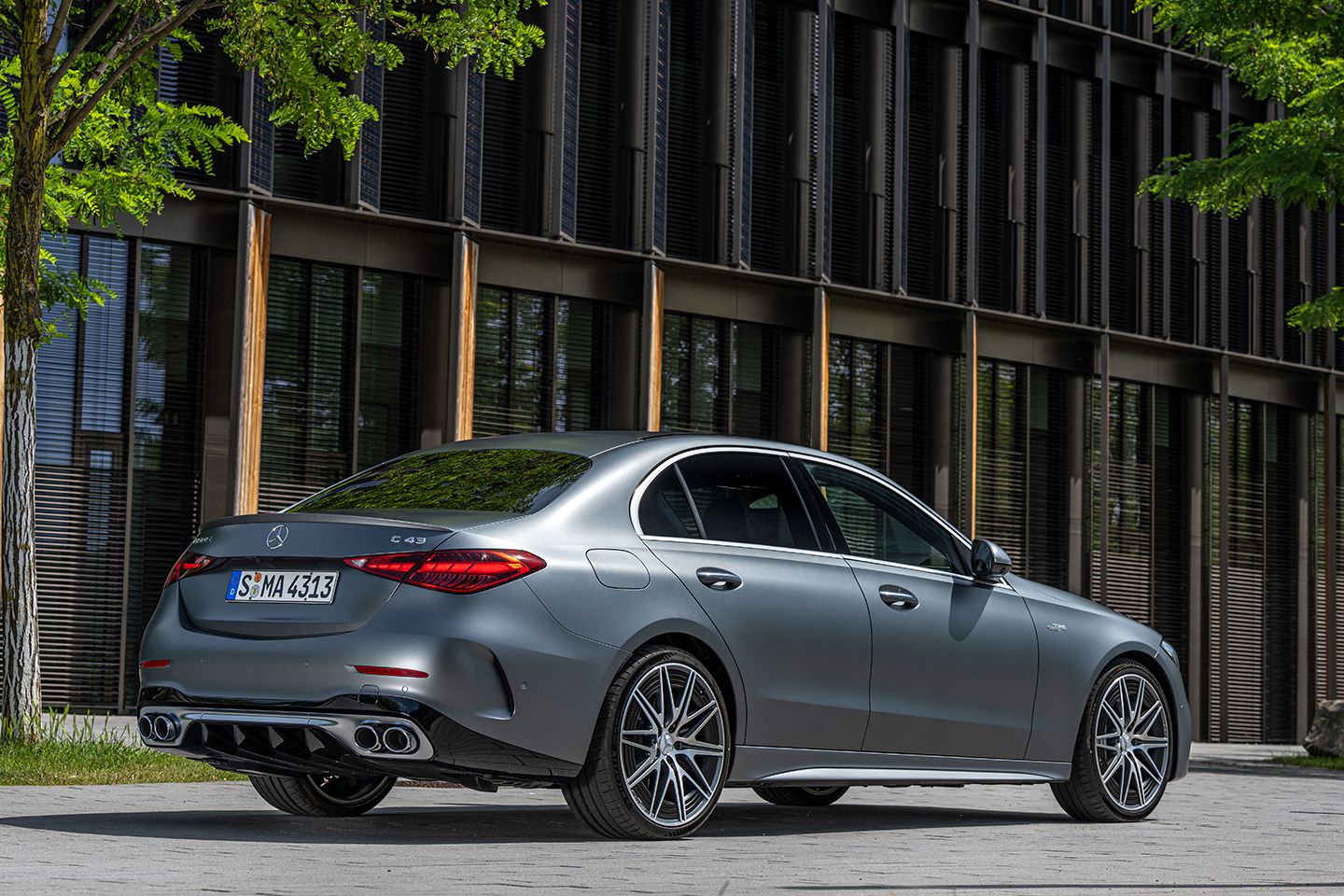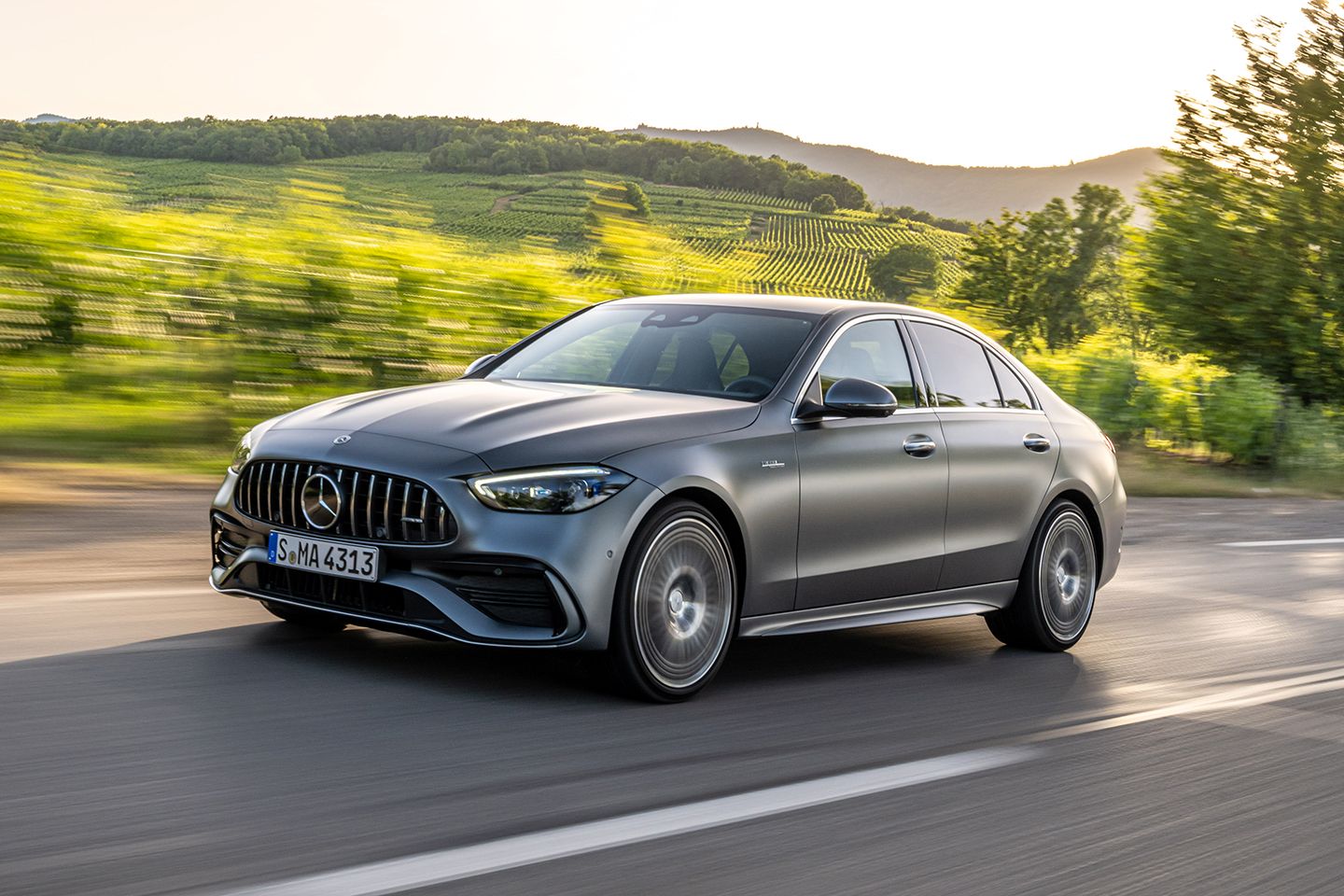 Ride remains firm at low speeds, even over generally smooth French tarmac, although the optional 20-inch wheels were likely responsible for some of the edge. It settles down at a faster pace and chassis discipline is high over bumps, compressions and cambers. So is dynamic security. Patches of heavy rain during the drive event meant I got to experience the C43 in both dry and wet conditions, with the Michelin Pilot Sport 4S tyres finding huge grip in both. Steering is good: there is some low-intensity feedback and the helm weight up progressively as lock is added. 
The reduced mass over the front axle is a definite advantage in slower corners, the C43 feeling agile and keen to turn. But even when pushing harder there was little sense of the rearward torque bias, the car gripping and going in a way that made it feel closer to an Audi S4 than its looser and more exciting AMG predecessors. The test car also had what felt to be a gearbox glitch, with a noticeable pause between requesting manual downshifts and feeling them arrive; AMG engineers reckoned this would be improved before finished cars get delivered to customers.
Bringing us back to that initial Porsche 718 comparison. Like the four-cylinder Cayster, the C43 feels like a car that has been engineered to match or beat its predecessor on every measurable metric, yet which has definitely lost some personality thanks to its downsized powerplant. Smaller and more efficient is the way of the future, and there's no doubt that – in a few years time – even the C43's heavily boosted combustion engine will look either daring or dated in a world of pure electric alternatives. But at the moment it feels like an outlier, especially as it is set to carry a chunky price premium over the six-cylinder BMW M340i xDrive. It's certainly got me wondering what the plug-in C63 will add beyond increased performance.
Specification | Mercedes-AMG C43 4Matic Premium Plus 
Engine: 1991cc four-cylinder, turbocharged with 48V assistance, 48V mild hybrid
Transmission: nine-speed auto, all-wheel drive
Power (hp): 402bhp @ 6750rpm
Torque (lb ft): 369b-ft @ 5000rpm 
0-62mph: 4.6-sec
Top speed: 155mph (limited), 165mph (limited) with optional Driver's Package
Weight: 1765kg 
MPG: 31.0
CO2: 206g/km
Price: £68,110 (C43 Premium £64,110)
[ad_2]

Source link